"Something To Talk About"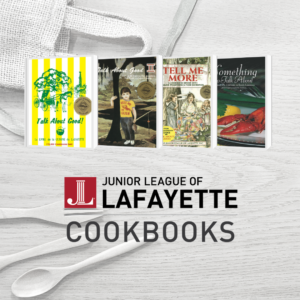 "Something to Talk About," the fourth in the "Talk About Good!" Cookbook Series, provides an abundance of kitchen-tested recipes from Louisiana's Cajun Country.
Twelve occasional menus, entertaining hints, informative sidebars, and vibrant color photography enable readers to recreate South Louisiana-style celebrations in any locale.
This hardbound book includes 220 pages with 230 recipes and was featured in Southern Living and Chili Pepper. It received the 2007 Writers Notes Cookbook Award, 2007 Eric Hoffer Book Award, and the 2006 Favorite Recipes Press Cookbook Award.
CLICK HERE
to read about "Dishes Without the Complications," in the Petit Potpourri, featuring "Something to Talk About."
CLICK HERE to read The Advocate's At the Table, featuring a recipe from "Something to Talk About".
Featured Recipes
Our Junior League of Lafayette cookbooks hold so many treasured recipes. Here are a few featured recipes from "Something to Talk About" for you to try. Enjoy!
Purchase Your Copy Today!