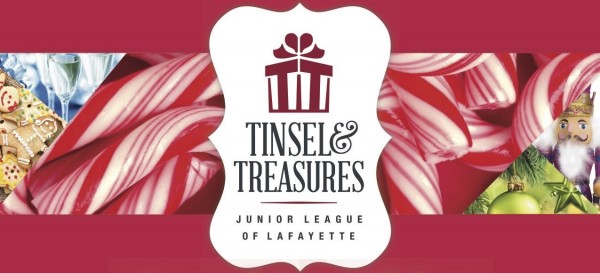 We are excited to present our 24th annual holiday shopping market. Tinsel & Treasures gives attendees a truly one-stop shopping experience for all of their holiday needs under one roof. The categories of boutique-like shops include jewelry, food, gifts, toys, home décor, apparel and much more!
Tinsel & Treasures Preview Party
Wednesday, September 27, 2017
7 p.m. – 10 p.m.
Tinsel & Treasures
Thursday, September 28, 2017: 10 a.m. – 8 p.m.
Stroller hours are from 3 p.m. – 8 p.m. on Thursday, September 28, 2017, only.
Friday, September 29, 2017: 9 a.m. – 8 p.m.
Saturday, September 30, 2017: 9 a.m. – 5 p.m.
CAJUNDOME Convention Center
444 Cajundome Blvd, Lafayette, LA 70506
Tickets
Special Events
Sparkle & Shine Raffle
Guest Services
Merchant List
Sponsor Tinsel & Treasures
Improving the Community
Tinsel & Treasures has successfully raised more than $4.7 million that has been invested in the Lafayette community through community programs benefiting women and children in Lafayette. It has also allowed us to provide financial support for Junior League of Lafayette and its Mission to promote voluntarism, develop the potential of women, and improve the community through the effective action and leadership of trained volunteers.
Thank you to our 2017 Sponsors
Tinsel & Treasures is made possible by the support of our generous sponsors.