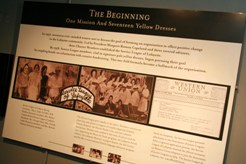 On July 12, 1957, seventeen civic-minded women met to discuss the goal of forming an organization to effect positive change in the Lafayette community. Led by President Margaret Ramsey Copeland and three revered advisors, these Charter Members established the Service League of Lafayette and became officially incorporated on September 30, 1957. The first year saw a membership of 48.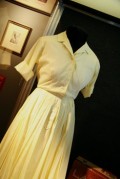 By 1958, Service League members, clad in signature pale yellow dresses, began pursuing their goal by coupling hands-on voluntarism with creative fundraising. This two-fold formula became a hallmark of the organization.
The Service League grew rapidly in the 1960s. Members volunteered their time and talents in support of visually impaired children, Charity Hospital, the Mental Health Unit, and the Lafayette Sanitarium. Members also worked in the areas of culture and the arts, supporting the Music for Youth program, the Lafayette Parish Library, the Lafayette Museum, a Puppet Theatre, the Art Center, and Dite-Moi, a conversational French language television program.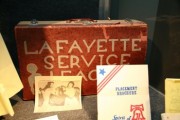 After its inception, the Service League pursued admittance to the national Association of Junior Leagues. Despite the cumbersome application process, the Service League of Lafayette received the official invitation, via Western Union telegram, to join the Association of Junior Leagues in 1974. The Junior League of Lafayette, Inc. was officially born.
Charter Members

Honorary Members

Mrs. Bella Nickerson-Abramson
Mrs. Barbara Hartwell
Mrs. W. W. Hawkins
Mrs. Emalie Comegys, Jr.
Mrs. Irene Hetherwick
Mrs. Donald Labbe
Mrs. Margaret Ramsey-Copeland
Mrs. Susie Hughes
Mrs. Bennett Voorhies
Mrs. Azalie Crain
Mrs. Janelle Morgan
Mrs. Geraldine Fontenot
Mrs. Woodthrow Meeker
Mrs. Malise Foster
Mrs. Lucille Copeland
Mrs. Jean Frazell
Mrs. Mary Ann Sadler
Mrs. Martha Green
Mrs. Martha Smith
Mrs. Frances Wallace