Junior League of Lafayette community programs are made possible by the valuable contributions of our partners and sponsors. We have a variety of ways to partner with us including event sponsorships, in-kind donations, and cash donations.
For sponsorship or in-kind donation interest, please contact Sponsorship Chair Torilyn Williams or Step-Up Katherine Hundley at sponsorship@juniorleagueoflafayette.com.
Community Programs
Junior League of Lafayette Community Programs serve the community through strategic partnerships that offer an interactive experience between League members and the community that enhances the community. Please email sponsorship@juniorleagueoflafayette.com to discuss sponsorship opportunities.
Community Programs Cash Sponsorship Brochure 2023-2024
Community Programs In-Kind Sponsorship Brochure 2023-2024
Community Programs Sponsorship Agreement 2023-2024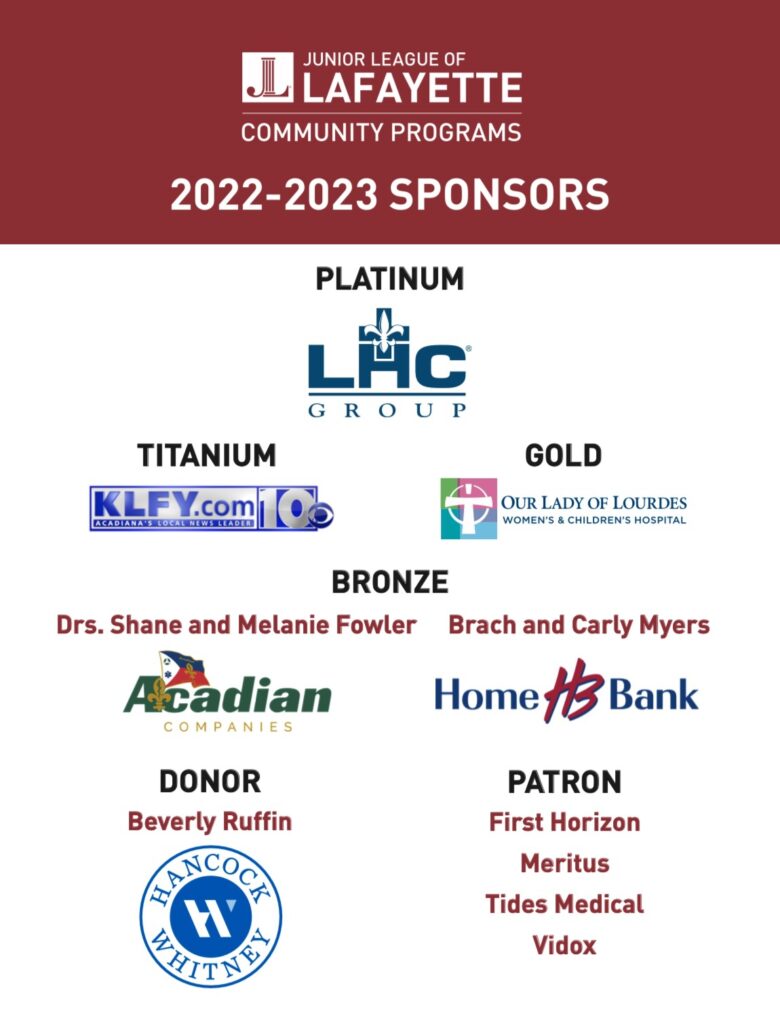 30th Annual Tinsel & Treasures Holiday Market: September 21-23, 2023 at the CAJUNDOME Convention Center.
Tinsel & Treasures is our annual shopping market with over 120 unique vendors.
Tinsel & Treasures Cash Sponsorship Brochure 2023
Tinsel & Treasures In-Kind Sponsorship Brochure 2023
Tinsel & Treasures Cash Sponsorship Agreement 2023
Tinsel & Treasures In-Kind Sponsorship Agreement 2023