Since 1957, Junior League of Lafayette Presidents have given their time and talents to lead the League with grace and dedication. We honor these women for their efforts, leadership, and continued love the League.
Each year, the outgoing President writes a letter to our membership listing the highlights of the League year that is published within our member guide, The Yellowbook. These inspiring messages are now also viewable below by clicking on the respective President.
Junior League of Lafayette Past Presidents
2022-2023 Monica Zuschlag
2021-2022 Cathy LaGrange
2020-2021 Dr. Melanie Fowler
2019-2020 Mrs. Angelle Adams
2018-2019 Mrs. Mary Courville
2017-2018 Mrs. Corinne Cotten Sprague
2016-2017 Mrs. Julie Ann Broussard
2015-2016 Mrs. Maggie Simar
2014-2015 Mrs. Tracy Ralston
2013-2014 Mrs. Shannon Dartez
2012-2013 Mrs. Alison Howard
2011-2012 Mrs. Christa Billeaud
2010-2011 Mrs. Meg Chase
2009-2010 Mrs. Stacy Patin
2008-2009 Mrs. Cynthia Devillier Thompson
2007-2008 Mrs. Sarah Hamilton Berthelot
2006-2007 Mrs. Lea Ann Remondet
2005-2006 Mrs. Angela Morrison
2004-2005 Mrs. Faith Moody
2003-2004 Mrs. Marilyn Lee
2002-2003 Mrs. Jeigh Stipe
2001-2002 Mrs. Judy Mahtook
2000-2001 Mrs. Deborah Terrible
1999-2000 Mrs. Marcia Metzner
1998-1999 Mrs. Molly Kallenberger
1997-1998 Dr. Lise Anne Slatten
1996-1997 Mrs. Cecile Mouton
1995-1996 Mrs. Melanie Martin
1994-1995 Mrs. Tori Guidry
1993-1994 Mrs. Debbie Foreman
1992-1993 Mrs. Margaret Trahan
1991-1992 Mrs. Renee Durio
1990-1991 Mrs. Miriam Bourgeois
1989-1990 Mrs. Debbie Mahony
1988-1989 Mrs. Kay Hebert
1987-1988 Mrs. Pam Showers
1986-1987 Mrs. Pat Low
1985-1986 Mrs. Lynn Blevins
1984-1985 Mrs. Mary Jeasonne*
1983-1984 Mrs. Ginny Maier
1982-1983 Mrs. Joanie Hill
1981-1982 Mrs. Leslie Hayes*
1980-1981 Mrs. Kathy Killeen
1979-1980 Mrs. Anne Sonnier-Calhoun
1978-1979 Mrs. Brenda Hawes
1977-1978 Mrs. Sally Herpin
1976-1977 Mrs. Jan Hamilton
1975-1976 Mrs. Mary Buie Skelton
1974-1975 Mrs. Marilyn Hoffpauir*
1973-1974 Mrs. Sarah Beacham*
1972-1973 Mrs. Natalee Wood*
1971-1972 Mrs. Malise Foster*
1970-1971 Mrs. Nedra Andrus*
1969-1970 Mrs. Jean Durke
1968-1969 Mrs. Bettye Walker*
1967-1968 Mrs. Janet Begneaud
1966-1967 Mrs. Lesleen Owen
1965-1966 Mrs. Toni Nelson*
1964-1965 Mrs. Felicia Elsbury*
1963-1964 Mrs. Sue Butler*
1962-1963 Mrs. Helen Bailey*
1961-1962 Mrs. Martha D. Smith*
1960-1961 Mrs. Luicille Copeland*
1959-1960 Mrs. Azalie Crain*
1957-1959 Mrs. Margaret Ramsey Copeland*
*deceased
Past Presidents' Messages
2022-2023 Monica Zuschlag
BIENVENUE EN JUNIOR LEAGUE OF LAFAYETTE! 
On behalf of our membership, a diverse powerhouse of more than 550 women, I extend my warmest greetings.
Junior League of Lafayette (JLL) is an organization of women whose Mission is to advance women's leadership for meaningful community impact through volunteer action, collaboration, and training.
Founded in 1957 as Service League of Lafayette by 17 dynamic and determined women, Junior League of Lafayette was created to serve and improve our community. The change created in our community by JLL has been instrumental. We are excited to celebrate the legacy of those who came before us as we celebrate 65 years of service to Lafayette. Six and a half decades of women meeting the needs of our community while empowering one another to be the leaders we were meant to be.
And while we look back on our history, we also look forward to our future as we begin the 2nd year of our 3-year strategic plan. We'll be exploring ways to increase membership engagement and the member experience, simplify communication processes, enhance the impact of community investments, and increase opportunities for our brand, all while seeking solutions that further our diversity, equity, inclusion, and belonging efforts so that we can continue to positively impact the Lafayette community for the next 65 years.
We invite you to explore our website further, become a partner, or join our membership. We will only be as successful as our community, fully knowing that we are making a difference.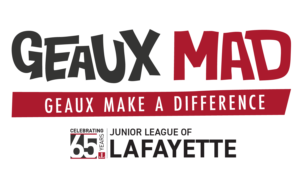 2021-2022 Cathy LeGrange
Be.The.Change. Yes, we were! What an incredible year this has been! We started this year with hopes of returning to "normal" and quickly found ourselves discussing the possibility of another all-virtual Tinsel & Treasures (T&T) holiday market. After much determination and creativity from the T&T Committee alongside many thoughtful discussions from the Board of Directors, we made the very tough decision to move forward with Tinsel & Treasures without our signature Preview Party. And what a success it was!
Every council experienced some type of change this year. We had to look at all our programs, again, and come up with both in-person and virtual options. Some programs were modified, some continued as usual, and I'm happy to say that we were able to complete all our projects.
Change doesn't mean we are doing something wrong; it means we are continually working to improve and make a difference. "And more than all we pray, that through the years, we will remember there are always new frontiers." These words have been part of our Association Prayer for years. We say them at the start of every meeting. They embody what we strive for. Through the hard work of our members, we conquered new frontiers. We were able to donate over 13,000 diapers to the American Red Cross to help families affected by Hurricane Ida. We donated hundreds of books to area students to help improve literacy, gave gifts to the finalists of the Teacher of the Year Awards, and helped the FRAN Family Literacy Program. And we did all of this in addition to our community projects!
The Petit Potpourri has gone digital and now is a blog. We celebrated the 30th anniversary of the League's Junior Quiz Bowl community program and are excited to be working with the Louisiana Quiz Bowl Association to help them take over this program.
We accomplished many of our strategic plan goals. We adopted a new set of Core Values, Focus Areas, and a new Diversity, Equity, and Inclusion statement. We have increased the donations to our Endowment Fund and have renovated our beloved Headquarters.
Be.The.Change. This charge means different things to different people. The change we make in Junior League of Lafayette is both a change in the community and a change in our members. Our projects change the lives of not only the recipients, but also the members working on the projects. This year, we helped build a home for a deserving family, providing security and a place of comfort for their future. We provided a Mardi Gras celebration for the DREAMS foundation to help those with disabilities enjoy themselves.
#changemeansgrowth We have grown so much in our programs, diversity of members, and reach in the community. I am so honored to have served as the League's 64th President. I will treasure this time, the things I have learned, and the friendships I have made. Thank you to all our members, Provisional, Active, and Sustainers, for your time, your talents, and the sacrifices you have made to be a part of this League.
Cathy LaGrange
2020-2021 Dr. Melanie Fowler
Extraordinary (adj.): very unusual or remarkable. No other word can justly describe this League year; together, we have tackled extraordinary challenges, achieved extraordinary accomplishments, and grown as extraordinary members.
From the moment the year began, our Board of Directors had many difficult decisions to make, including moving our beloved Tinsel & Treasures holiday market to a virtual platform. This challenge proved to be no match for the ingenuity and perseverance of our Management Team and Tinsel & Treasures Committee. Our Tinsel & Treasures fundraiser was highly successful, as was the inaugural year of Community Program Sponsorships. We also celebrated the 15th anniversary of our fourth cookbook, "Something to Talk About"!
As we reimagined every Community Program and Collaborative Opportunity Grant, our members went above and beyond, and not one single project was canceled, just modified. We celebrated the 25th anniversary of our partnership with Boys & Girls Clubs of Acadiana with a virtual visit from the Colgate Bright Smiles, Bright Futures® dental van and a Kitchen Wars event between the two clubs. Our Diaper Bank moved to a new facility at Our Lady of Lourdes St. Landry campus, and the Lourdes Foundation solidified our partnership with a generous donation of 70,000 diapers.
We reinvented General Membership Meetings, beginning with only virtual meetings then transitioning to hybrid meetings with both an in-person and virtual option. Our Annual Meeting in May was a much-needed reunion of our membership, and we were thrilled when it became a reality as COVID-19 restrictions eased and vaccinations became available.
The Board, while overseeing the unknown immediate challenges of a pandemic, did not waver in its duty to be a strategic and future-focused body, and the group produced a new Strategic Plan for 2021-2024. This plan highlights values that are important to our League: diversity, equity, and inclusion; fiscal responsibility; community impact; and preserving the uniqueness of the Junior League experience.
Once again, I am so honored to have served as the 63rd president of Junior League of Lafayette. In a year of extraordinary, our members' commitment to our Mission of improving our community and developing the potential of women has persevered!  We are always Better Together!
2019-2020 Angelle Adams
What an incredible year for Junior League of Lafayette! We had many successes throughout the year, for our members and our organization, and we concluded with undoubtedly the biggest unpredictable change in League history.
With a membership of 600 women strong, our "We Got This!" theme for the year was embedded in every facet of our League. Our leadership teams and membership embraced this message wholeheartedly, and the positive spirit was felt throughout all four Councils. We successfully provided training opportunities for our members at every General Membership Meeting, offering engaging, educational topics relevant to our membership. We completed yet another outstanding Tinsel & Treasures fundraiser for our League to support the work of our Mission in the community. Talk About Good! II, the second cookbook in our award-winning series, celebrated 40 years in publication. This historical treasure, along with renowned artwork of the late George Rodrigue, was a feature exhibit at the Southern Food & Beverage Museum in New Orleans.
Our League expanded its focus outward this year and worked diligently to collaborate with organizations in the community; in doing so, we successfully established eight (8) representatives on external nonprofit boards. The efforts of our Collaborative Opportunity Grants program were recognized this year as well, as JLL received United Way of Acadiana's Luminary Award for the Days of Thanksgiving project, representative of UWA's vision to "live UNITED." We also celebrated our 50th anniversary as a member of One Acadiana, as well as "Junior League of Lafayette Week," in November, as proclaimed by Mayor-President Joel Robideaux.
With the onset of the COVID-19 pandemic, JLL activated its first Emergency Response Team in an effort to respond to the inevitable changes to our already planned programs and events for the remainder of the year. The League shifted to a socially distant platform, resulting in many planned programs to be altered, postponed, or canceled. Remaining trainings and meetings were held through virtual platforms, with the League hosting its first ever virtual Annual Membership Meeting. Even throughout the uncertainty, our Diaper Bank remained open and operational to provide our partner organizations support for those families most in need during this trying time. What was most impressive to me during this time was the commitment of our Members to one another, and the perseverance of each active, provisional, and sustaining member to continue the work of Junior League of Lafayette.
Thank you for electing me to lead our organization in this capacity this year; it has truly been my greatest honor to serve as the 62nd president of Junior League of Lafayette. I am very grateful to have worked with all the intelligent, vibrant women in JLL, and I have enjoyed all of the friendships made during this incredible, humbling year. Remember, it takes ALL of us working together to make this community a better place to live, work, and thrive. Together, "We Got This!"
2018-2019 Mary Courville
We were all inspired to think of one word as our takeaway from this past League year; however, I'm not sure my final thoughts can be summarized with just one. It has been my deepest honor to lead Junior League of Lafayette. I won't soon forget the memories I have made, but they are just an added bonus to the impact we continue to create in our community.
Milestones. Tinsel & Treasures celebrated 25 years, and we marked the occasion with a special anniversary logo. Our past Chairs were able to attend festivities and Preview Party where we toasted our sponsors and community for supporting us throughout our years. More than 10,000 shoppers attended the holiday market this year, and many were able to view our Tinsel & Treasures' history exhibit that contained memorabilia of our past 25 years. Our Cookbook Committee also celebrated a milestone anniversary of "Tell Me More," which was highlighted by a joyous evening at Hook & Boil restaurant. The evening featured stories of the cookbook's evolution and original artwork by the late Cajun artist, Floyd Sonnier featured within "Tell Me More."
Collaborate. Junior League doesn't just create, it empowers. With our Mission to serve women and children, our League is a uniting force that often paves the way for change and growth. The relationships we forge when we work alongside such a large group of diverse, thoughtful, and hard-working women, are carried with us into other aspects of our lives, be it professional or personal. This year, we brought back our Community Breakfast, allowing area nonprofits to network and collaborate while also gaining insight into the history of Junior League of Lafayette and learning more about our grant process. It is this dedication to strengthening and empowering local agencies that is paramount to the continued growth and success of our community.
Service. Service is a core component of our League. This year alone, the League provided over 25,000 volunteer hours and raised more than $325,000 that went directly into our community. Whether it's filling a backpack with school supplies, educating children on healthy eating and lifestyles, awarding a local nonprofit with a grant to enhance their own mission, or teaching teenagers the consequences of distracted driving, Junior League of Lafayette serves a variety of needs.
Endurance. There is a reason our League continues to be one of the largest nonprofits in our community. By training and educating current and future leaders, we create a staying power that not only produces impactful change, but also makes us better women – wives, sisters, mothers, daughters, friends, and bosses. We offer numerous trainings throughout the year, both through external conferences and internal meetings, held monthly. The women in our League don't just learn the skills to complete their yearly placements, they are offered countless opportunities to grow, develop, and gather the tools they need to succeed in and out of Junior League.
Growth. Our League underwent change and internal growth as well. While it is obvious the women who comprise our League are passionate about the work we do, there are still constituents in the community who may be unclear as to the work we provide. This year, Junior League of Lafayette aired an informational commercial highlighting our Mission, impact, and membership. We developed a branded presentation folder to be used across all councils within the League to present a clear, concise, and uniform message. We hired a new full-time Headquarters Manager, expanded our networking and conference reach by joining POLL (Presidents of Large Leagues), slated a new placement of Executive Vice President-Elect to join the Management Team, and after extensive research and a demand for services, developed a new committee, the Diaper Bank, to address crucial diaper need in greater Lafayette.
Vision. "Women as leaders for lasting community change." We are able to fulfill our Vision through collaboration, the services we provide the community, our commitment and stamina to the work, and through growth and change. It is the tremendous work of our membership and the committees who worked tirelessly, the Chairs who gracefully led their committees, the Management Team who guided daily operations, and the Board of Directors who had strategic discussions that all contributed to our success. I can honestly say this year we saw progress because of our collective efforts.
Grateful. This year has truly been inspiring. I am grateful to all members for their contributions. I feel blessed to have witnessed and been a part of the work we accomplished together this year. Thank you for your time and talents shared with the League and each other. I am genuinely honored to have served as President of Junior League of Lafayette, and I am forever grateful for having the opportunity.