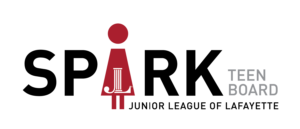 Junior League of Lafayette's Spark Teen Board consists of 12 high school junior and senior female leaders in our community who have volunteered to serve a one-year term. The focus of Spark Teen Board is to spark a culture of volunteer action and leadership in young women of Lafayette Parish.
The Spark Teen Board provides a foundation of voluntarism and offers the opportunity for Spark Teen Board participants to gain an understanding of the impact Junior League of Lafayette has on the Lafayette community, with the opportunity to apply for one of two (2) $1,000 Junior League of Lafayette Scholarships. As a participant of the Spark Teen Board, young women will learn what it takes to become a leader in our community and work directly with Junior League of Lafayette Members and other community leaders. Through this training, Spark Teen Board participants will learn leadership skills, professionalism, self-esteem, as well as other valuable skills. Spark Teen Board participants will have opportunities to volunteer at key Junior League of Lafayette events and community programs throughout the year. In addition, the participants will have the benefit of interacting with other young women their age from across the community.
APPLICATION INSTRUCTIONS AND TIMELINE
Applications for 2023-2024 are open. Click here to apply.
Applicants should complete the online application, which includes a photo and letter of recommendation submissions. Any supporting documents should be emailed to

sparkteenboard@juniorleagueoflafayette.com

.
School counselors will complete the Counselor's Verification Form online to verify that applicants are in good standing.
WHAT TO EXPECT FROM SPARK TEEN BOARD
Gain valuable volunteer training
Earn volunteer hours to showcase on college and scholarship applications
Interact with other high school women from across the community
Grow and develop as a leader and volunteer
Gain experience developing a philanthropic project
COMMITMENT TO SPARK TEEN BOARD
The Spark Teen Board requires a level of commitment and dedication from each selected member in order to provide a successful and meaningful experience. Please note the following commitments:
Participants are expected to participate in all Spark Teen Board events and activities unless they have communicated with the Spark Teen Board Coordinator and have been excused from an event.
Attendance is required for all monthly Spark Teen Board meetings.
Spark Teen Board members commit to monthly meetings and additional volunteer opportunities that will be offered throughout the year.

 
CRITERIA
Applicants must meet the following criteria:
In the 11th or 12th grade during the 2023-2024 school year and attend a school in Lafayette Parish or reside no farther than ten (10) miles outside of the Lafayette Parish boundary.
Submit recommendations from school administrators or other community leaders as having leadership potential (teachers, administrators, coaches, instructors, faith leaders, employers, etc.).
In good standing at their school and verified by their school counselor.
Submit a clear photograph or headshot.
Must not be the child or dependent of a Junior League of Lafayette Spark Teen Board Committee Member or Spark Teen Board Selection Committee Member.
Interested in learning more about volunteer and leadership opportunities in the community.
Interested in applying the skills gained in Spark Teen Board training in the community.
Positive and enthusiastic about networking with other local high school teens.
Willing to make the time commitment necessary to gain a meaningful experience as a Spark Teen Board member.
Willing to actively participate in meetings and activities.
Able to provide their own transportation to meetings and activities.
If selected, participants must have the signed consent of their parent/guardian to participate.
QUESTIONS?
If you have any questions about Spark Teen Board, please send an email to sparkteenboard@juniorleagueoflafayette.com.