Collaborative Opportunity Grants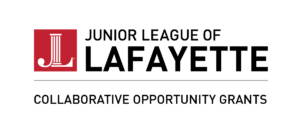 Junior League of Lafayette is committed to providing our community with direct and indirect resources, namely financial contributions and volunteer hours. Each year, Junior League of Lafayette invites other nonprofit organizations to submit grant proposals. The organizations and their programs are selected for grants based on our Mission and focus area of women and children.
2021-2022 Collaborative Opportunity Grants Application
Thank you to all of our 2021-2022 Collaborative Opportunity Grant Applicants. Grant recipients will be announced in October of 2021. The application deadline is now closed for the 2021-2022 League year. Please look for the 2022-2023 applications in May of 2022.
2020-2021 Collaborative Opportunity Grant Recipients
Total Awards: $18,385.00
The Collaborative Opportunity Grants Committee is pleased to announce the following grants have been selected for fulfillment during the 2020-2021 League year. We are pleased to work with all the partner organizations in fulfilling their need and carrying out Junior League of Lafayette's Mission of improving Acadiana through the effective action and leadership of trained volunteers. We are grateful to all the organizations that applied in this grant cycle, and we would like to thank everyone who participated in selecting these 10 grants.
Night Grants
Autism Society Acadiana Sensory-Friendly Waiting Room Makeover
Grant award: $750
The Night Grants Committee will participate in a sensory-friendly makeover of the Autism Society Acadiana's waiting room. Many individuals experience sensory input in a way that makes waiting a busy environment, like a lobby, a difficult place to be. This makeover will provide sensory tools and modifications to make Autism Society Acadiana's waiting room sensory-friendly.
Catholic Charities of Acadiana Bedding Kits
Grant award: $2000
The Night Grants Committee will work in conjunction with Catholic Charities of Acadiana to create bedding kits for 26 households served by the organization's supportive housing project. Catholic Charities of Acadiana administers 10 programs to address social issues like poverty, hunger, and homelessness in our community, and the bedding kits provided with this grant will include household linens for families served through this project.
Second Harvest Food Pantry Project
Grant award: $2000
One in three children in Acadiana struggle with hunger. The Night Grants Committee is working in conjunction with Second Harvest, an organization dedicated to ending hunger, to improve access to kid-friendly foods. Committee members will provide access to items such as applesauce and no-sugar-added canned fruit, and they will also write encouraging notes to the children served through the food pantry.
DREAMS Foundation Mardi Gras Ball
Grant Award: $2000
Letting the good times roll is a proud Acadiana tradition, and the Night Grants Committee is helping DREAMS Foundation of Acadiana do just that on January 16, 2021 with their "Drive-Thru Mardi Gras Ball." This grant will allow all participants to be a King or Queen for the night as a one-of-a-kind costume ball and parade rolls in front of Avant Senior Living Center for a fun-filled evening of celebration.
Clearport Learning Girl's Night Out
Grant award: $1835
Girl's Night Out is a Clearport program that gives an opportunity to girls served by the organization to relax, celebrate friendships, and discuss topics facing Acadiana teens today. The Night Grants Committee is excited to partner with Clearport this November to serve in a mentor capacity during the event and help facilitate discussion using materials provided by Clearport Learning Center.
Day Grants
Acadiana Outreach Revitalization Project
Grant Award: $2000
Acadiana Outreach Center provides shelter for up to 28 individuals at any given time who are experiencing homelessness. Families who come to the center with minor children may stay for up to 12 months. The Day Grants Committee is working with Acadiana Outreach Center this fall to revitalize the communal space and make it more comfortable for families and individuals staying at the Center.
Foster Friends Christmas Party
Grant Award: $2000
The Day Grants Committee is ready to spread a little holiday cheer by partnering with Foster Friends of Acadiana to host its annual Christmas party. Foster Friends is an organization focused on serving children in Acadiana within the foster care system. This annual event is a time for families served through Foster Friends to share in a holiday meal or treat, gift exchange, and entertainment.
Healing House Coping Kits
Grant award: $2000
Healing House is an organization that provides support to Acadiana children and their caregivers grieving the death of a loved one. The Day Grants Committee will partner with Healing House to assemble and distribute "Coping Kits," a grief care package that has items to help recipients process their loss, take care of themselves, and access resources during a difficult time. These kits are distributed to area agencies, funeral homes, and hospice organizations.
Miles Perret Cancer Services "Simply You" Boxes
Grant award: $1800
Miles Perret Center is a comprehensive resource center that helps those in Acadiana fight, survive, and live with cancer. The Day Grants Committee is helping assemble and provide "Simply You" boxes for individuals undergoing a mastectomy. These boxes will include items related to surgical recovery and comfort items for the recovery process.
United Way EHS Days of Thanksgiving
Grant Award: $2000
United Way Early Head Start provides quality, no-cost, early childhood education to children in Acadiana who meet the Federal Poverty Income Guidelines. The Day Grants Committee will work in conjunction with the Early Head Start program to provide food for Thanksgiving baskets to be distributed to families of the Early Head Start program this November.