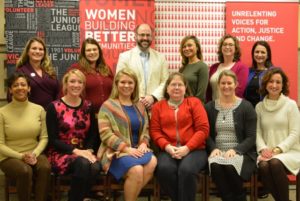 (Standing left to right:  Maggie Simar, JLL Immediate Past President; Jeanette Chauvin, JLL Communications Vice President; Ryan Goudelocke, Community Member; Danielle Claiborne, JLL Community Vice President; Heather Blanchard, Community Member; and Mary Courville, JLL Executive Vice President.  Seated left to right:  Dr. Jennifer Jackson, Community Member; Hannah Mason, JLL Secretary; Corinne Sprague, JLL President-Elect; Dr. Lise Anne Slatten, JLL Sustaining Advisor to JLL Board; Julie Broussard, JLL President; and Dr. Tina Stefanski, Community Member.  Not pictured:  Zachary Barker, Jason El Koubi, Kyle Gideon, Debbie Mills, Fred Mills, and Jerry Prejean.) *Photo taken January 2017
The Purpose of the Community Advisory Board is:
To advise Junior League of Lafayette in areas of finance and public relations
To inform of opportunities for voluntarism and community involvement
To educate community leaders about Junior League
To serve as resources for information for Junior League
The Community Advisory Board for Junior League of Lafayette has been established to enhance public relations and to seek objective opinions from community leaders on certain issues. It is a committee developed to provide a two-way communication link between the League and our community.
The composition of the Community Advisory Board consists of ten community and seven Junior League of Lafayette members.  The representatives from Junior League are the President, President-Elect, Executive Vice President, Community Vice-President, Communications Vice-President, Secretary, Sustaining Advisor to the Board and the immediate Past President.
The ten community leaders are selected for a two-year term, with half rotating off each year. Terms begin June 1 and end May 31 of each year. No community member shall serve consecutive terms.
Meetings of the Community Advisory Board will be chaired by the President-Elect, who is responsible for the orientation of new members.
2015-2017 Term

Zachary Barker

Jason El Koubi

Kyle Gideon

Debbie Mills

Fred Mills

2016-2018 Term

Heather Blanchard

Ryan Goudelocke

Dr. Jennifer Jackson

Jerry Prejean

Dr. Tina Stefanski