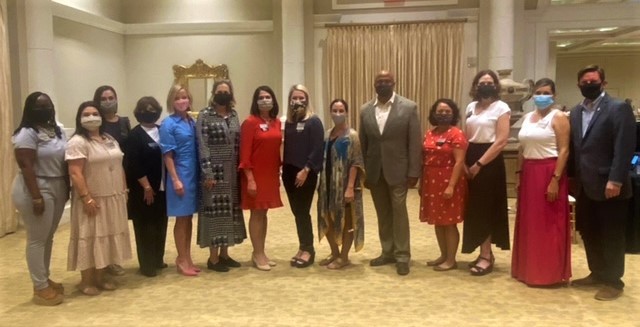 The Purpose of the Community Advisory Board is:
To advise Junior League of Lafayette in areas of finance and public relations
To inform of opportunities for voluntarism and community involvement
To educate community leaders about Junior League
To serve as resources for information for Junior League
The Community Advisory Board for Junior League of Lafayette has been established to enhance public relations and to seek objective opinions from community leaders on certain issues. It is a committee developed to provide a two-way communication link between the League and our community.
The composition of the Community Advisory Board consists of 10 community leaders and seven Junior League of Lafayette members. The representatives from Junior League are the President, President-Elect, Executive Vice President, Community Vice President, Communications Vice President, Secretary, Sustaining Advisor to the Board and the immediate Past President.
Ten community leaders are selected for a two-year term, with half rotating off each year. Terms begin June 1 and end May 31 of each year. No community member shall serve consecutive terms.
Meetings of the Community Advisory Board will be chaired by the President-Elect, who is responsible for the orientation of new board members.
2020-2022 Term
2021-2023 Term
CAB Member Bios
2020-2022 Term
Marcelle Fontenot
In her own words: "Let me first say, I pray you and your family members are well in this time of so much uncertainty in our society. I also thank you for considering me to serve as a member of your Community Advisory Board. I am an Opelousas native, mother of two sons and have been working at KATC for the past 16 years. I have served in several capacities with many organizations in our area including Big Brothers Big Sisters of Acadiana, Faith House, and Komen Acadiana. I have been honored as one of Acadiana's Top 20 Under 40, Women Who Mean Business, and Tops in Acadiana. I first became aware of your work in this community in the early days of my career as a reporter and have taken note of your footprint in service since. It has been a choice for me to continue my career in Acadiana, raise and educate my children here and continue to enjoy our way of life, even despite its challenges. I've made that choice because I am dedicated to doing my part in helping the lives of the people who live here. Serving on your advisory board will allow for another opportunity to do so. What will I add to your Community Advisory Board? I spend my days learning about and reporting on the ins and outs, challenges and hardships, and the obstacles and battles in this area. However, I am also often the first to know when those challenges become successes and those battles are won. I believe it is people like the members of Junior League of Lafayette who make those turnarounds possible. I will bring to you a unique perspective on the challenges of this area, as well as offer tangible, real world solutions. I will use my voice to help your organization expand its outreach in making Lafayette and Acadiana better places to live."
Jim Lyons
is an active member of the Lafayette community, currently serving as serving as past chairman of the Board for Boys and Girls Clubs of Acadiana and board member of Beaver Club of Lafayette. Lyons has served as an Acadiana Red Cross board member, as well as treasurer of Acadiana Health Education Center. He is also active in the state banking community having served as past chairman for Louisiana Bankers Education Council. Lyons has been in banking all of his career and currently serves as Chief Operating Officer for First National Bank of Louisiana (FNB). A native of Jennings, La. and a graduate of Notre Dame High School in Crowley, Lyons received his Bachelor of Science in Business Management from Louisiana State University and went on to receive his MBA from University of New Orleans. He is also a graduate of LSU's Graduate School of Banking. Lyons began his career in New Orleans with Hancock Bank, as part of their Management Associate Program, before joining FNB.
Taniecea Arceneaux Mallery, Ph.D.
currently serves as the Executive Director of Strategic Initiatives & Chief Diversity Officer at the University of Louisiana at Lafayette. In this role, she is responsible for fostering diversity among students, faculty, and staff, as well as ensuring that underrepresented groups have equal access to educational opportunities and resources. Prior to joining UL Lafayette, she worked as a senior diversity research specialist in the Diversity Policy and Programs unit at the Association of American Medical Colleges in Washington, D.C.  She has also completed a postdoctoral research fellowship in the Center for Statistical Research and Methodology at the U.S. Census Bureau. She earned a bachelor's degree in mathematics from Loyola University New Orleans, as well as a master's degree and Ph.D. in applied and computational mathematics from Princeton University.
City Marshal Reginald Thomas
currently serves as Lafayette City Marshal. He was elected as the first African American to hold a city-wide position. He is a veteran of the Lafayette Police Department, retiring after 29 years of service, rising to the position of Deputy Chief. Thomas has made significant strides in addressing violent crime and rebuilding relationships with the community. Thomas is a graduate of the FBI National Academy and has worked in almost every assignment with the Lafayette Police Department, including patrol, narcotics, detective division, criminal investigations division, and training director. He was elected twice by his peers to represent them on the civil service board, has led the Officer Involved Shooting Team, and has served as the Louisiana Chapter president of the FBI National Academy Association. Thomas is a graduate of Leadership Lafayette XXXII, and recently graduated from the Louisiana Leadership class of 2020.
Blaise Zuschlag
is Chief Administrative Officer and Vice President at Acadian Companies. His duties include managing Acadian's strategic initiatives and coordinating the activities of the management team. He earned an MBA from Tulane University and a BS in Finance from Louisiana State University. Prior to working at Acadian, Blaise worked at JP Morgan as a Private Wealth Advisor for 3 years and managed a diverse portfolio of investments, loans, trusts, and banking relationships within the Private Bank. Blaise is a graduate of Leadership Lafayette – Class 24, and serves on numerous local non-profit boards including Leadership Institute of Acadiana, Lafayette Education Foundation, Evangeline Area Boy Scouts Swamp Base Capital Campaign, Community Foundation of Acadiana's Investment Committee, and Holy Family Catholic Schools Steering Committee.
2021-2023 Term
Kevin Blanchard
is the executive director of the Lafayette Public Trust Financing Authority (the "LPTFA"). The LPTFA participates in community developed related investments that benefit Lafayette. Kevin is an attorney and former journalist who was most recently the Chief Operating Officer for Southern Lifestyle Development, a real estate development company. Kevin worked for former Mayor-President Joey Durel, as both Chief Development Officer and Public Works Director. Kevin's civic involvement has included being chair of the Leadership Institute of Acadiana as well as the citizen's committee that drove the development of Lafayette's first comprehensive plan. Kevin was the Lafayette Parish Bar Association's Outstanding Young Lawyer in 2014. Kevin and his wife, Heather, have three girls.
Terry Dugas
is the Marketing Representative and Community Liaison for the Acadiana Area Human Services District. Terry is a graduate of UL Lafayette (2013), and recently completed the Leadership Lafayette program through the Leadership Institute of Acadiana (Class 33). He also currently serves as Board President of the Public Relations Association of Louisiana: Acadiana Chapter. He has served on the board for PRAL for three years. Terry is a volunteer with United Way of Acadiana, having participated in four food distributions in 2020 as well as meal deliveries. Terry also serves on the Health Services Advisory Committee for the Early Head Start program through United Way of Acadiana. He is trained in Facilitation for Diversity, Equity, and Inclusion conversations through Conversation Starters and has a background in public relations, marketing, working in nonprofits and DEI facilitation.
Dr. Anita Hazelwood
is a professor and Head of the Department of Allied Health Professions in the College of Nursing and Allied Health Professions at UL Lafayette, where she has been on the faculty for 45 years. Anita is currently the Lafayette General Medical Center/BORSF Professor in Health Sciences and past Louisiana Health Systems/BORSF Professor in Health Care Administration. She holds a doctorate in Educational Leadership with a concentration in Higher Education and is a credentialed Registered Health Information Administrator (RHIA).  Anita was the first Fellow of the American Health Information Association (FAHIMA) from Louisiana and is a nationally recognized coding specialist and speaker. Anita is the author of several leading texts in the field of health information management. On the national level, she is currently Chair of HIMAC, the Health Information Management Accreditation Council which evaluates health information management (HIM) programs at the associate, baccalaureate, and master's degree levels and offers recommendations on accreditation to the CAHIIM (Commission on Accreditation for Health Informatics and Information Management Education) of which she is a Board member. A past president and board member of the Louisiana Health Information Management Association (LHIMA), Anita received that group's Distinguished Member Award in 1997, the LHIMA Career Achievement Award in 2017, and the Outstanding Volunteer Award in 2018. Locally, Anita was the recipient of the Women of Excellence Award in the Public Service category from the Lafayette Commission on the Needs of Women in 2008. She has been a member of the Lafayette General Health Systems Membership Corporation since 2013.
Becky Kreamer
is Director of Education at United Way of Acadiana. She has been instrumental in spreading The Leader in Me to schools across Louisiana, specifically in the amazing 64 schools that she is grateful to serve. Her background as an educator, attorney, and FranklinCovey coach helped her to hone the skills required to develop highly effective leaders in the region and beyond. She began her career as a classroom teacher in Jefferson Parish and attended law school at night. After graduating, she practiced law for several years until deciding to return to her first love, education. Becky's work involves business and education consulting in management, leadership, project management, program/process design, needs analysis, and human resources. She was a member of Lafayette Education Foundation and is an instructor and course designer for the University of Louisiana Continuing Education. She resides in Lafayette with her husband, Chuck, and four children.
Brach Myers
is Senior Vice President of Growth and Strategic Partnerships at LHC Group, a Nasdaq listed company providing post-acute healthcare services across the United States. His role carries the responsibility for growing LHC Group's patient base, and he leads a team of over 1000 sales team members throughout the country. During his career he has helped to foster partnerships between the Acadiana-based company and some of the leading healthcare systems and providers in the World; such as Ochsner Health System, Baptist Health System, Lifepoint Health, and Christus Health. Brach is a graduate of the Center for Creative Leadership's LDP Program, has previously served the Emerging Leaders Council for the Louisiana Association of Business and Industry (LABI), and is a current appointee of the Lafayette Parish Government Recreation Commission. Brach is a new 2021 addition to the board of directors for the Community Foundation of Acadiana, where he serves on both the Finance and Business Development Committees. In addition, Brach currently serves as Chairman of The Boys & Girls Clubs in Louisiana, Vice Chairman for the Boys & Girls Clubs of Louisiana Alliance, and the investment approval committee board for the Ochsner / Lafayette General Foundation Innovation Fund. Brach has served as past Finance Chair for the St. Landry Parish Veterans Memorial Project and past Chair of the Louisiana Boys & Girls Clubs Area Council. Born and raised in Palmetto, a small, rural town in north St. Landry Parish, Brach along with his wife Carly and son Emile, now reside in the historical Bendel Gardens neighborhood in Lafayette.