We are excited to announce that JLL will be awarding the following at this year's Community Breakfast: Nedra Andrus Award, Nonprofit of the Year, and Outstanding Volunteer.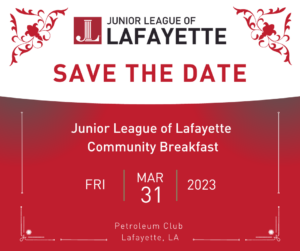 Outstanding Volunteer

– We will honor two JLL Members who display an immense desire to improve the community we live in.

The ideal honoree will be a Member in

good standing who is a team player, has a passion for JLL, furthers the Mission of the organization, and has gone above and beyond the call of duty in her volunteer work. This honoree also volunteers outside of JLL and participates in community projects and programs with other organizations. All dues paying Members are eligible for this award.

Nominate your fellow JLL Members

here

.

 
Nedra Andrus Award

– The late Nedra Andrus served as the 13

th

President of Junior League of Lafayette and became a sustaining Member in 1975. Nedra was very active in civic and community work and served with various organizations including Acadiana Arts Council, Preservation Alliance of Lafayette, Acadian Village, National Trust for Historic Preservation, Acadiana Symphony Women's League, and many more. Nedra served our community with a servant's heart and a passion for making our community one in which to prosper and enjoy.

In her honor, Junior League of Lafayette will award on individual the Nedra Andrus Award. The ideal candidate demonstrates a profound volunteer spirit and makes an immense impact on our community.

Click

here

to make a nomination.

 
Nonprofit of the Year

– JLL will honor a local nonprofit agency for their work in the Lafayette community.

The ideal agency makes a significant impact on the women and/or children in our area, which aligns with the Mission of Junior League of Lafayette.

Click

here

to make a nomination.