Junior League of Lafayette Endowment Fund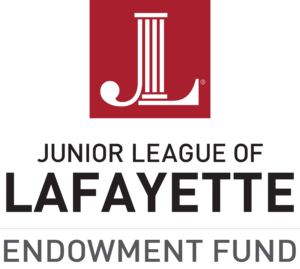 Junior League of Lafayette's Endowment Fund was created to strengthen and provide long-term financial sustainability. It helps ensure Junior League of Lafayette can continue making a positive impact on Lafayette Parish through advancing women's leadership for meaningful community impact through volunteer action, collaboration, and training.
Honor someone who has enriched your life by donating to Junior League of Lafayette's Endowment Fund. A tribute may be made to remember friends and relatives, living and deceased. Through your contribution, the funds perpetuate the memory of loved ones and honor accomplishments and special events of others. An acknowledgment card is sent to both the donor and the person being honored. For a memorial gift, a card is sent to the family.
Every donation helps us look forward to a future while continuing to provide community programs. We accept gifts in any amount. If you are employed, please ask if your employer will match your contribution.
Contributions can be made in a variety of ways:
Planned Giving
Cash/Check/Credit Card
Life Insurance
Property (Personal and Real Estate Bequests)
Stocks and Bonds
Memorials
Charitable Trusts
Gifts
Pooled Income Fund
Gifts "In Kind"
Gift Annuity
Corporate Matches
Thank you for believing that a gift to our Endowment Fund is a gift to the future of our community.
Donate Today