Interested in joining Junior League of Lafayette?
Thank you for your interest in Junior League of Lafayette. We welcome all women who value our Mission and demonstrate an interest in and commitment to voluntarism.
Membership offers many benefits including opportunities for leadership, training, skill development, networking, recognition, and friendships. Most importantly, League membership offers a chance to give back to our community and experience the fulfillment that comes from helping others.
We are part of The Association of Junior Leagues International, which includes a network of 150,000+ women empowered to lead 291 Leagues in the United States, Canada, Mexico, and United Kingdom. This network provides us with a unique and powerful depth of knowledge and resourcefulness to bring about the changes we strive to accomplish in our community.
2022-2023 Admissions Informational Sessions

Each year Junior League of Lafayette opens our doors to welcome potential new members to learn more about Junior League of Lafayette and how to become a member. If you'd like more information, please join us on one of the dates below:
Thursday, January 20, 2021 6-7 p.m. virtual-only option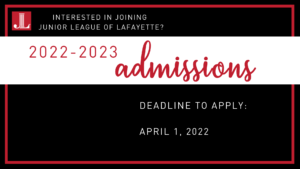 Wednesday, February 9, 2022 12-1 p.m. at Headquarters
Friday, March 11, 2022 12-1 p.m. at Headquarters
If you are unable to attend any of our Admissions Informational Sessions, or if you have additional questions about the Admissions Process, contact Admissions Chair, Kari Walker at admissions@juniorleagueoflafayette.com.
Additional Admissions Resource links below: