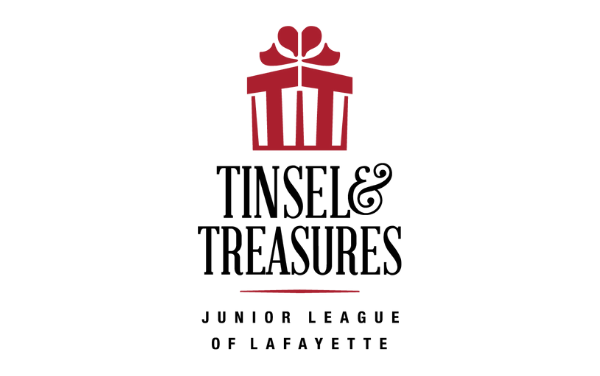 2022 Tinsel & Treasures Merchants List
You'll enjoy two floors filled with over 120 boutique-like shops including jewelry, food, gifts, toys, home decor, apparel, and more!
Accessories
Arnett's
Beautiful Brows and Lashes
Headhunters Headwear
Lauren Ferrell Designs
Pens by Mike
Shoeffle'
the little pink bag
Vintage Finds Estate Jewelry
Arts and Antiques
Architectural Memories
John Marc Anderson Art
K Jane Art
Preservation Press
Roux Art Designs
Stan & Craig Routh Studios
Taylor Anne Design
Books and Stationery
Apple Pie Publishing
Fly Away Style, LLC, DBA TAYLOR PALADINO
Junior League of Lafayette Cookbooks
Pelican Publishing
Children's Items
All Aboard Party HQ Embroidery
Banannie Bands
Bellamia kids
Have 2 Have It
Imagination Unlimited
Kaydees
La Mere Village
Little Bow Diddly LLC
Marie Henry Youth Boutique
Mommy Made It For Me
Mr. Ellie Pooh
Orient Expressed
Southern Cotton Blooms
Star Linens
Tres Jolie boutique
Ultra Bella, LLC
Food and Beverage
All of Us
AllAboutDips
Best Companies
Big Creek Farms
Brenham Kitchens
Brewhouse Bakers
Holiday Farms
Indianola Pecan House
Leisuremann's Cocktails Mixes
Puf Sweet
Savor the Flavor
The Popcorn Hut
Home and Gifts
Aromatic Infusions
Bella's Candles
Borgil Enterprises
da Vinci Broom
Etched Archives by The Silver Suitcase
Friend Zi by Southern Sage
Fusion Market and Gifts
Holidays With Harley
John Oliver Dowdle Interiors
Keedro LLC Home and Gifts
Light of Mine Rock Candles
Majeza Jewelry Cleaner
Mississippi Miracle Clay
Original Stiles
PARISH INK
Soco Swings
Southern Distributors
Standard Topiary
The Bath Lady Scents & Suds
The Cutco Kitchen
The Little Flower Gift Shop
The Magnolia Loft
The Pink Paisley
Under Wraps
Woodland Sunrise LLC
Jewelry
ACCESSORIES, ETC.
Allison Rhymes Designs
Aubrey Adele Jewelry
BeeStill Design
Big Easy Jewelry
Cypress Springs Mercedarian Prayer Center, Sister Dulce Ministries
Delamora Designs
Emily Anne Designs LLC
Eris Wiggins Jewelry
Full of Grace Divine Designs
Golden Lily
Just for ME Designs LLC
Palm of Hope Jewelry Designs
Rant and Rave
SongLily
Steward & James
The Beaded Soul
Twisted Wire Designs
V MART
Vanishing Heirlooms Antique and Vintage Jewelry
Men and Sports
Cape Woolamai Mercantile Co.
Clayton & Crume
Home Fields Inc
Limit Out Supply Co
Properly Tied
The Manly Gift Store
Women's Clothing
1971 Clothing
AlanaKayART
AYRES Boutique
Beau Lane Boutique
Evangelene and Company
Ginn G
Hazelynn Boutique
Julie's Boutique
La Boujee Boutique
Louise Lane Boutique
Love Bug Apparel
Marcella Boutique
Milla and Ella Co
Nestled and Company
One Hip Mom
ShannieGirl
Simply Sassy Apparel
Slaydon & Rose
Southern Addiction
StyleAlum
Tias boutique
Traveling Chic Boutique
Twisted Tangerine
Two Elves With A Twist