Funding the Mission: Planning With A Purpose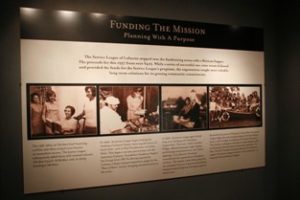 The Service League of Lafayette stepped into the fundraising arena with a Mexican Supper. The proceeds for this 1957 fiesta were $425. While a series of successful one-time events followed and provided the funds for the Service League's programs, the organization sought a more reliable solution for its growing community commitments.
The 1967 debut of Talk About Good! filled this need. Featuring a yellow and white striped cover, Talk About Good! became an immediate success. The Junior League subsequently added three, well-received volumes, Talk About Good II, Tell Me More, and, in 2005, Something to Talk About.
In 1980, the Junior League again found long-term funding with Christmas Comes Alive. The event, held at Acadian Village, offered extravagant light displays, performing arts presentations, and Santa sightings. It is a favorite Christmas remembrance for a generation of Acadiana children. The massive undertaking required the assistance of scores of generous businesses and governmental agencies during its span of eleven years.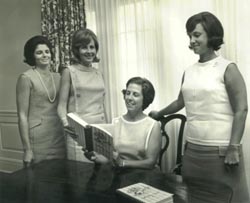 Buoyed by the success of Christmas Comes Alive, the Junior League began the most lucrative chapter of its fundraising history with the 1994 introduction of Tinsel & Treasures. This holiday marketplace continues to dazzle shoppers with its Christmas-themed events and specialty merchants. To date, Tinsel & Treasures has generated over $3.9 million to support the Junior League's mission in the community – a long way from a Mexican Supper.
Learn more about our historic fundraising events.