Fundraising Events In Detail
Fundraising Events to Benefit Community Projects
The following fundraising events are a sampling of the benefits that Junior League of Lafayette has organized to support its community projects.
Mexican Supper
The Service League held its first fundraising project, a Mexican supper in October 1957 and netted $424.20 with proceeds going towards various community projects.
Silk Stocking Revue
This fundraiser was held in 1958, netting $6,516 for the League's community projects. Advertising for the event was seen throughout Lafayette as members tied bright red dyed stockings to their car antennas and painted the Revue's logo on windows.
Doll Fundraiser
In 1958, three dolls featuring handmade clothes were raffled with the winner announced on television. These dolls were named after the League's three honorary members (Aimee, Mable and Louise) and raised $362.69.
Hawaiian Luau
Held in September 1959, this fundraiser party netted $8,595 and enabled the Service League of Lafayette to pay for the salary of the first Occupational Therapist at the Southwest Louisiana Rehabilitation Hospital.
Roaring Twenties Party
On May 26, 1961, Service League members donned custom aqua shimmy dress costumes to host this fundraiser. Tickets cost $12.50 per couple. Ed Gerlack and his 16-piece band, complete in costume, furnished the music for the party.
Fete Champetre Gypsy Party
This outdoor party fundraiser was held on September 14, 1963. A gypsy wagon was built in order to deliver patrons' party tickets and transport guests from the parking to the party location. Later the wagon was transformed into a children's playhouse and raffled as a door prize. Decorations also involved a large revolving gypsy woman. Members had custom costumes made, with material for each dress costing $3.45 and purchased from Heymann's.
Cabaret Follies
"A Kick and a Promise" was held November 13, 1964. During the planning, members walked around as moving billboards with large decorated head pieces such as a zebra. A contest was held to name the second cabaret follies and Nancy Strait was the winner with "You've Come A Long Way, Chere" on April 26, 1974.
International Bazaar
This fundraising event was held May 7, 1966. All League members hand crafted items to be displayed in the Municipal Auditorium Ballroom including felt crafts, fine painting, wood crafts, decoupage, knitting and sewing. This fundraiser netted $5,561 for the Service League Community Fund.
Talk About Good!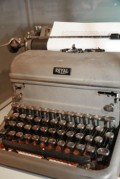 Talk About Good! began with a budget of $25. Twelve hundred recipes were collected and almost all of the recipes submitted were placed in the book with no pretesting. Members named the book and created the artwork, designed the cover, and wrote the forward and the poem that introduces the book.
When the first delivery of 2,025 cookbooks was made on June 26, 1967, the book retailed for $3.75. Before the third printing, members cross-indexed the cookbook. Talk About Good! changed its appearance when the 25th anniversary limited collector's edition was released in hard cover in April 1992. This book is now in its twenty-seventh printing with 750,000 copies produced. Talk About Good! is the recipient of the Tabasco® Community Cookbook Hall of Fame Award.
Bayou Oaks Charity Horse Show
In April 1970 the League hosted a fundraiser at Blackham Coliseum featuring Arabian horses. A raffle was held for a Shetland pony. Event proceeds were used to purchase an artificial kidney machine.
Photo (l-r): Wayne Newton, David Andrus and Eileen Knight.
Southern Shooting Stars Play for Charity
On April 15, 1972, the Service League of Lafayette sponsored a charity basketball game at Blackham Coliseum. Louisiana basketball all stars coached by Beryl Shipley from USL competed against the Texas all star team coached by Guy Lewis from the University of Houston. This fundraiser netted $5378.22.
Drowning Pool Premier
On June 17, 1975, Warner Brothers and the Junior League of Lafayette presented the Southern Premiere of the "Drowning Pool" at the Westwood Theater. The movie was made locally and featured Paul Newman and JoAnn Woodward.
Talk About Good II
The League instituted plans to begin a second cookbook, Talk About Good II, in 1976. The Cookbook Projects Committee contracted internationally acclaimed artist George Rodrigue, who graciously donated his talent for the cover as well as the twelve paintings that appear on the divider pages. Recipes were collected and tested twice.
Talk About Good II arrived on February 11, 1980. The first printing sold out in seven months. The hardcover version of this book is in its eighth printing with 205,000 copies produced. Talk About Good II is the recipient of the Tabasco® Community Cookbook Hall of Fame Award.
Talk About Tennis I & II
In 1976-77 the League organized a one-day tennis exhibition with clinics starring Bjorn Borg, Rod Laver, Kris Shaw and Beth Norton. Talk About Tennis II was held in 1977-78 featuring Arthur Ashe and Virginia Wade.
It Was Great in '58
On April 11, 1980, the Junior League organized a 1950's theme party fundraiser. One hundred thirty-five area businesses donated items to be used as door prizes and raffle items to be given away during the party. Event attendees filled the auditorium to capacity and raised $17,346.28 to be turned over to the League Community Trust fund.
Culinary Classic
In 1990 the Junior League partnered with the American Culinary Federation/Acadiana Chapter to host Culinary Classic, a competition in which local and national chefs entered their best recipes in a variety of food categories. Renowned chefs Paul Prudhomme, John Folse, James Graham, Emeril Lagasse, among others, participated during the League's six year involvement with the Classic. Even Chef Mickey Mouse participated accompanied by a team of award-winning Disney chefs who educated and entertained with their culinary magic.
Christmas Comes Alive at Acadian Village
This Christmas extravaganza was a two-fold event: a major Junior League fundraiser and an annual holiday festival that entertained thousands of people for eleven years. Christmas Comes Alive transformed historic Acadian Village into a winter wonderland with brightly colored lights and animations on the porches of the Cajun cottages. In its eleventh year, Christmas Comes Alive moved to the barns behind the UL Lafayette Blackham Coliseum in 1990. "An Olde Tyme Christmas" theme was created in the new home. Highlights included a dramatic waterfall and the traditional 35 foot Christmas tree which was suspended over a freshly dug lake.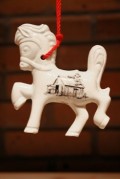 Christmas Comes Alive Ornaments
Each year a unique pen and ink sketch done by the late Cajun artist Floyd Sonnier was placed on a commemorative ceramic ornament designed by Tammie Rachou. A limited number of ornaments were made available for sale at the annual Christmas Comes Alive event.
Tell Me More
In December 1993, 35 years after the Service League began, the Junior League released its third cookbook, Tell Me More. The creative talents of local writer and editor, Bob Ham, were used to enable presentation of cherished anecdotes in a charming and entertaining manner. This book features artwork by the late Cajun artist Floyd Sonnier. An original work on the cover entitled "Maman's Passing Down" was his first major drawing in full color and depicts the central theme of the book, a grandmother relating family traditions to her two curious granddaughters. The League printed the second edition of this book only three months after its release. This book is in its third printing with 60,000 copies produced. Tell Me More is the recipient of the 1994 Southeast Tabasco ® Community Cookbook Award.
Tinsel & Treasures
Since 1994, Tinsel & Treasures, a holiday market, has been a premier social and economic event for the Junior League of Lafayette and the community. First held at the Cajundome, the market later moved to the Cajundome Convention Center. Through the years the market has grown to include over 135 merchants from across the United States and is now visited by over 10,000 shoppers each year. Since its inception, Tinsel & Treasures has raised over $5.6 million dollars, which has been used to provide financial support for Junior League of Lafayette and its Mission to promote voluntarism, develop the potential of women, and improve the community through the effective action and leadership of trained volunteers.
Something to Talk About – Occasions We Celebrate in South Louisiana
In October 2005, the Junior League of Lafayette debuted its fourth cookbook. It includes vibrant color photography, twelve occasional menus, 230 kitchen-tested recipes and informative sidebars and entertaining tips. Something to Talk About received the 2006 Favorite Recipes Press Cookbook Award, which honors the Junior League that conducted the most successful cookbook program for the prior year. Something to Talk About is also the recipient of the 2007 Writers Notes Cookbook Award.