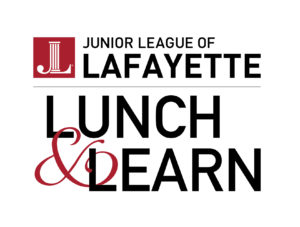 Junior League of Lafayette is incredibly proud to use the fruits of our fundraising efforts to launch our newest program – a Lunch & Learn series kicking off this fall. We offer this community program as a training opportunity to all women in Acadiana. Anyone may find the topics and resources of this program useful, from a newly graduated college student to a stay-at-home mom looking to be inspired to make an impact. Each year, the program will offer a three-part luncheon series for a nominally ticketed price. We are excited to offer this new community program designed specifically to develop the potential of women in Acadiana.
In a community with ever-evolving needs, Junior League of Lafayette is proud to serve as a force for good, impacting Acadiana one community program at a time.
Lunch & Learn November Event
CLICK HERE TO PURCHASE TICKETS.
"Finding Your Fire" with Terri Broussard Williams, Movement Maker
Wednesday, November 20, 2019
11:30 a.m. – 1 p.m.
Petroleum Club of Lafayette
111 Heymann Boulevard
Lafayette, LA 70503
$25 per person
Join us for lunch and to learn powerful lessons shared by our special guest speaker, Terri Broussard Williams, founder of Movement Maker.
Leaders turn moments into movements and Terri Broussard Williams believes that movements start from within. We all have the capacity to become advocates, philanthropists or change-makers once a movement has been stirred within our hearts. Learn how to find your fire and create the changes you see within yourself, your families and in your community.
Junior League of Lafayette's Lunch & Learn series is a community program offering leadership training to all women in Acadiana.
11:30 a.m. Doors Open/Check-In and Lunch
12:00 p.m. – 1 p.m. Presentation
CLICK HERE TO PURCHASE TICKETS.
*A limited number of tickets are available.
More about the speaker: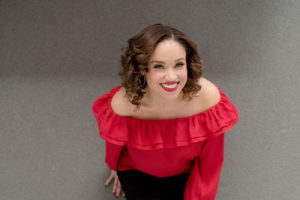 Terri Broussard Williams, Movement Maker
Terri Broussard Williams is an award-winning lobbyist, philanthropist and professional speaker who has spent the past 20 years helping leaders and organizations create systemic change to further their missions. Recognized for her innovative approach and strategic insight, Broussard Williams' public service began as the youngest board member to sit at the table of the Lafayette Chamber of Commerce, and has since continued through her involvement in national philanthropic and humanitarian organizations. Serving as a Government Relations Executive for the American Heart Association, Broussard Williams' experience for community improvement continues to be a cornerstone of her character. Terri is focused on paying it forward – encouraging and building-up others who strive to create meaningful and groundbreaking changes through her blog, movementmakertribe.com. Get to know more about this #firestarter at terribwilliams.com.
Stay tuned for details on Junior League of Lafayette's two additional Lunch & Learn events coming this spring.