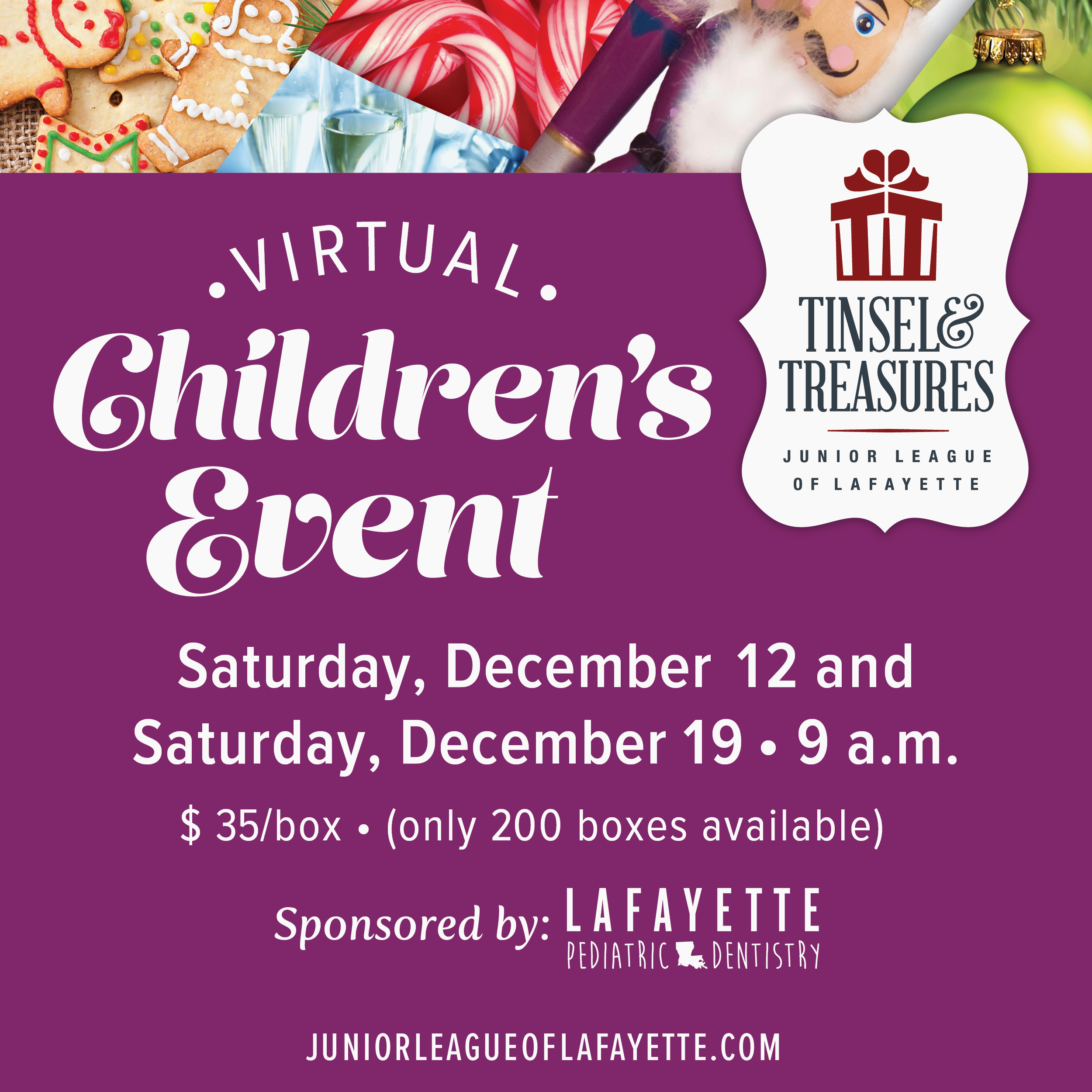 $35 Box
* A limited number of 200 boxes available.
Junior League of Lafayette is excited to host a virtual Children's Event with your choice of date, either Saturday, December 12 or Saturday, December 19 at 9 a.m.
Boxes are still available for the Saturday, December 19 event – hurry and purchase yours today! The Saturday, December 12 event boxes are officially sold out.
For a $35 donation, your child will be able to enjoy a morning with Santa online before he drops down the chimney.
Children will be invited to join a video call with Santa where he will read a Christmas book with special guests, Olaf and Rudolph.
In addition, your children will find safe, kid-themed items in the box including a signed photo from Santa with "special friends," stationery to write a letter to Santa, and other hands-on holiday activities.
Boxes go on sale in November and are LIMITED. Pickup will be at Junior League of Lafayette Headquarters, 504 Richland Ave, Lafayette, LA 70508.
Thank you to all our box donors:
Ace Specialties
Alysson Bourque, Author
Angela Navarre & Alyssa Wheatley
Cottonwood Books
DeLoach Therapy Services
Eli's Sugary Treats
Elle Clements & Brooke Bell
Gayle Webre, Author
Gee Victoriano, Author
Gladiators Academy of Lafayette
Hark Creative
Homegrown
Kart Ranch
Kergan Bros., Inc./ SONIC Drive-in Restaurants
Lafayette Children's Clinic
Lafayette Coca-Cola Bottling Company UNITED, Inc.
Lafayette Lanes
Lafayette Pediatric Dentistry
Margaret David Laborde & Retired U S District Judge Rebecca F. Doherty, Co-Authors
Marks Management McDonald's
MC Photography
Nancy Rust and Carol Stubbs, Co-Authors
Our Lady of Lourdes Women's & Children's Hospital
Parish Ink
Pizza Artista
Setareh Mirian-Delcambre, Realtor
Trader Joe's
ULPress