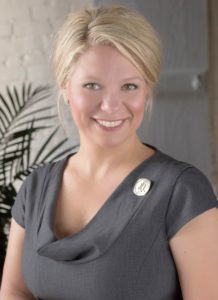 Welcome to Junior League of Lafayette! On behalf of our 600-plus members, I invite you to explore our website and learn how our League plays a pivotal role in affecting positive change in our community, while developing our members to be future civic leaders.
I am constantly impressed by the caliber of women who make up Junior League of Lafayette and the opportunities afforded to our members to make a meaningful impact on the Lafayette community. Our members have a diverse set of backgrounds and interests and are role models throughout our community. We have a rich history of touching lives and are fortunate to carry our League experiences with us into our jobs, home and additional volunteer opportunities. These experiences change the lives of the women and children that we serve while enriching the lives of our members.
On September 30, 2017, Junior League of Lafayette will celebrate 60 years of service to the Lafayette community.   The seeds that we have planted continue to enrich our community and provide trained volunteers in areas of need that surround the healthy development and education of children, as well as foster the well-being of women. At the heart of our work, our Mission has been constant. We promote voluntarism. We develop women. We improve our community.
Through the efforts of our members, the tremendous support of our fundraisers and the financial contributions from our sponsors, Junior League of Lafayette is truly making a difference in the lives of women and children.  Last year, we invested over 20,000 hours of volunteer service into our community. Highlights from our some of our programs include:
Engaging children through catchy songs and upbeat dance moves all while educating on the benefits of healthy eating habits and exercise.
Providing an escape and fostering a supportive environment through age appropriate activities for children who are fighting cancer or have a parent or sibling with cancer.
Presenting a two-day intensive workshop, that has reached over 10,000 area high school Juniors and Seniors, to demonstrate the realities and consequences of driving while impaired or distracted.
It is an amazing honor and privilege to serve this organization and its members. We have an exceptional legacy that serves as our foundation as we work to build a better Lafayette. Whether you are an agency in need, considering membership or interested in making a financial contribution to support our mission, please join us as we celebrate a historic milestone – 60 years of service to the Lafayette community.
All my best,
Corinne Cotten Sprague
President 2017-2018