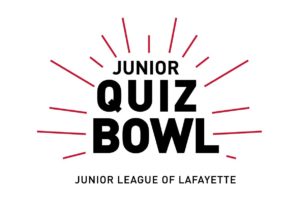 Junior Quiz Bowl is an academic competition involving teams from area junior high schools. The competition involves schools going head-to-head to answer questions from a variety of subjects including history, literature, science, fine arts, current events, popular culture, sports, and more.
The students participate in six weekly competitions in the fall, followed by six weekly competitions in the spring, and then culminating in a final tournament in March. The League's volunteers plan and promote the competition, and they assist as moderators, time keepers, and scorekeepers for each tournament.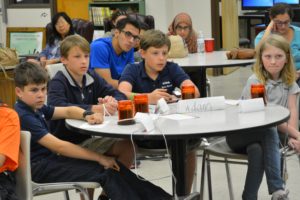 The League's 2021-22 Junior Quiz Bowl Chair, Claire Dubois, stated "We are so excited to be celebrating the 30th anniversary of Junior Quiz Bowl in Acadiana! The positive impact it has made on countless students and volunteers over the last three decades is unmeasurable. Junior Quiz Bowl provides an opportunity for children to shine academically, while still competing against their peers from neighboring schools. It truly has come full circle for some women, who participated in Junior Quiz Bowl as students and now have joined the League and donate their time to make sure we can continue to service the child they once were."
Junior League of Lafayette has been promoting academic excellence by organizing and implementing this program for 30 years.
2021-2022 Junior Quiz Bowl
Team Captains Jean-Paul Simon and Seth Cheramie led their teams to an all-Fatima final in the 30th anniversary JQB tournament.Top Row: Ethan Bailey and Coach George Hollier
Middle Row: 2021-2022 President Cathy LaGrange, Josh Burrows, Aaron LeBlanc, Jean-Paul Simon, Seth Cheramie, Cameron Chestnut, 2021-2022 Community VP Adoria Hankton
Bottom Row: Gabe Ayallore and William Moses