Junior League of Lafayette Receives 2018 ICON Trailblazer Award
April 19, 2018 – Junior League of Lafayette was honored to receive the 2018 ICON Arts and Cultural Trailblazer Award.  The ICON Awards is an event celebrating those in the community who have made an impact on Acadiana through Arts, Business, and Culture.
Started by 17 civic-minded women, then Service League of Lafayette grew rapidly and has had a hand in shaping some of the community's most cherished institutions, such as Acadiana Center for the Arts, the Paul and Lulu Hilliard University Art Museum, and the Lafayette Science Museum. Junior League of Lafayette continues to offer financial and personnel resources to support, not only arts and culture, but a variety of nonprofits in Lafayette, such as the Children's Museum of Acadiana, Christian Youth Theater and Free Little Libraries, as well as provide the collective talents and volunteer efforts of League members.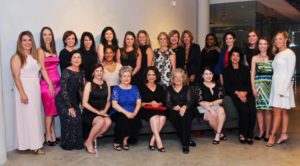 In 1967, the organization pioneered an invaluable piece of culture with the award-winning, nationally recognized cookbook, Talk About Good. Now 50 years old and with more than 800,000 copies sold, this Cajun kitchen staple is famously filled with some of the region's best recipes. Along with Talk About Good II (1978), Tell Me More (1993) and Something to Talk About (2005), the cookbook is an unmatched source of South Louisiana culinary history.
At the heart of the work, the Mission of the Junior League of Lafayette has been constant. Members are committed to promoting voluntarism, developing the potential of women and improving the community through the effective action and leadership of trained
Junior League of Lafayette was honored to receive the 2018 Trailblazer award and celebrates the unique culture of Acadiana with the other ICON award recipients:
2018 Honorary Icons
Lifetime Achievement, Visual: Philip Gould
Lifetime Achievement, Performing: Michael Doucet dit BeauSoleil
Patron: Dr. Gerald and Geraldine Hubbell
Artist-Performing: Sonny Landreth
Artist-Visual: Dennis Paul Williams
Trailblazer: D.L. Menard
Trailblazer: Service League of Lafayette/Junior League of Lafayette
Leadership in the Creative Economy-Project: Blue Monday-John Williams
Leadership in the Creative Economy-Individuals: Steve and Cézanne Nails Dockside Studios
Rising Star: Alex "PoeticSoul" Johnson
Learn more at https://www.artbusinessculture.org/icon/.